events


---
WEDNESDAY SEPTEMBER 20
Wonderful Wellness Wednesdays
Theme: Physical Wellness
barbara@wildroseunited.ca
---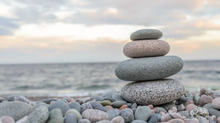 Wonderful Wellness Wednesdays Begin September 13th for more information on topics visit
Spiritual Wellness
. Day Break Meditations 7:00 -8:00 am (Hillhurst United Church)
· After Day Break Discussion 8:00-9:00 am (Hillhurst United Church)
· Guided Meditation 11:30-12:00 pm (Wild Rose United Church)
· Holy Sacrament 12:01– 2:20 pm (Wild Rose United Church)
· Community Lunch 12:30 -1:15 pm (Wild Rose United Church)
· Mindful Walking 1:16-2:00 pm (Wild Rose United Church)
· Wellness Discussion 2:00-3:30 pm (Wild Rose United Church)
· Awakening Series 7:00-9:00 pm (starts September 20) (First and third Wednesday of the month)
(Wild Rose United Church)
Everyone is invited to join all or some of the activities.
8 Pillars of Wellness Learning Themes for the year are:
· September – physical wellness
· October – Intellectual wellness
· November – emotional wellness
· December – social wellness
· January – environmental wellness
· February – financial wellness
· March – vocational wellness
· April – spiritual wellness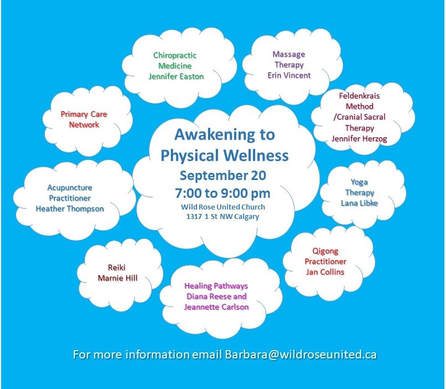 For a full list of speakers for the Wellness Discussion and Awakening Series please visit
Spiritual Wellness.
To view a copy of our full calendar click the link below.
To view a day to day calendar click on the date below and a window will pop up.

---